We're not here to knock technology, we all know the benefits it provides, but we are also aware of the negatives. That's why we are working alongside educators like you to help define that healthy balance between screen time and movement time.
Tablets and phones have replaced the TV as a way of pacifying children and keeping them entertained – recent figures have revealed that one in three toddlers use a gadget before they can even talk! Crazy, right?
"Screen time" tends to increase as children grow. Even very young children are spending a significant amount of time each day staring at screens. We discovered kids ages 5-8 are spending nearly 3 hours a day staring at a screen!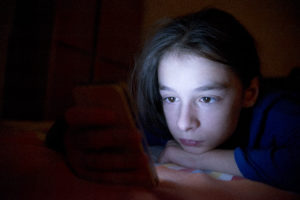 These devices could be having a significant impact on the mental health of young people, even affecting behavior and sleeping patterns. Disruption of the sleep/wake cycle also can potentially lead to weight gain and obesity-related health problems in children. Why would we sit back and let this happen to our children?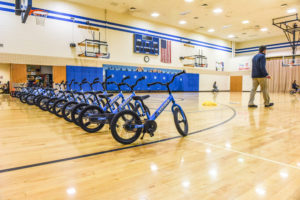 How to cut back on screen time? PE today is about so much more than sports or athletic performance. It's bigger than that! Today the emphasis is more on cooperation than competition. More on developing competencies in lifelong activities rather than traditional team sports. Learning to ride a bike fits perfectly in this system and when a child learns how to ride a bike in school, naturally they will want to continue that activity outside of school. Kids will quickly realize how much fun riding a bike is. They will experience a feeling of accomplishment, gain a little confidence and want to share that fun with other kids in the neighborhood, resulting in strengthening social bonds and ditching the tablets.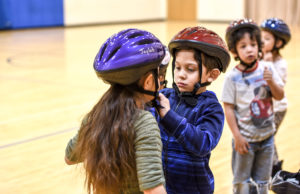 It's time for a curriculum that can improve children's health and self-esteem, build interpersonal skills and help improve a child's academic performance. The Strider Education Foundation Learn-To-Ride Program is that curriculum. According to Physical Activity Council research, adults who did not have P.E. in school are twice as likely to be totally inactive today. Think about it. If you learn to ride a bike in kindergarten, you will more than likely ride a bike as an adult. The Kindergarten PE Program equips schools like yours with everything needed to teach children how to ride a bike. Easy training and certification, a structured 8 lesson curriculum, a fleet of Strider Balance Bikes, pedal conversion kits, fully adjustable helmets, and a 5-year support plan. Every student will develop a solid foundation of biking skills, whether they are a seasoned rider or have never been on a bike. Oh, and the important part; this is FREE to schools thanks to donors and sponsors. Inquire today with one of our education specialists just how easy it is to get your school enrolled in the program and help kids choose to ride bikes over "screen time".