If this is your first time to the All Kids Bike Blog first of all – Hey there, it's cool that you're here! Secondly, you won't know that I have quite the list of "these are a few of my favorite things," I frequently count as part of my "job" – people to meet, various tasks, get to-dos…I could go on, but I'll spare you. Come back to read more stories from me, and you'll quickly attain a list.
Kindergarten PE Program delivery day undoubtedly hovers among the top of the list, for a variety of reasons. During the infancy of the Foundation, a large percentage of programs placed were in the region of headquarters; Fortunately for me, I was the deliverer – or at least in on the delivery. Strider Bikes – all built with help from the warehouse – helmets and pedal kits loaded into the Sprinter van on various occasions, and with an assortment of coworkers, set off across parts of western South Dakota, bringing the joy of two wheels to unsuspecting kindergartners.
We ARE All Kids Bike, after all, and soon programs began shipping far and wide to schools across the nation. That part was super exciting, yes, but much to my chagrin, shipping myself along with the Kindergarten PE Program so I could continue the revelry and absorb the JOY of delivery is not in the budget.
Harrumph!
Luckily, there are still a few close-enough places that cases made for traveling are acceptable…and begging is something that apparently is not entirely outside my comfort zone. The bike delivery day I'm about to talk about was closer than the ones as of late – which means I got a day out of the office to see kids on bikes – and what an eventful day it was!
Any Old Yahoo
So, I have this friend, Stephanie (Steph), who has a pretty big heart. (Steph's heart is much bigger than the likelihood of her ever hiking again, with me – or anyone for that matter, but I digress, that adventure is a story for another blog.)
Steph does live life out loud. However, there are things she does that no one will know; there are things she does under the radar and certainly not for accolades. I know this because of our relationship (and I know lots of things.)
You are reading this today because I beat her in a leg-wrestling contest for the right to tell this story. That is what friends do, right?
I jest.
Steph convinced her coworker, Molly, to join her in placing the Kindergarten PE Program in Rosebud Elementary School. A prime example of one of the kinds of things she typically keeps under wraps.
The only reason I am allowed to utter anything about this donation is that she and Molly wanted others to know that "any old yahoo" can affect change. Despite where any old yahoo might work, currently live, grow up, essentially wherever they choose to, they can make changes.
The two yahoos' initial donation and intent were to place a Kindergarten PE Program at Rosebud Elementary School. An anonymous donor matched their gift, and Todd County Elementary received the Kindergarten PE Program, too – can you say, ah-may-zing?
Since the two yahoos live and work within a half-day drive of All Kids Bike headquarters, we loaded up all the bikes, helmets, and set about on a wintry day adventure to bring two-wheeled fun to the first schools on the Rosebud Indian Reservation.
Four hours away, the students at two Todd County School District Elementary Schools – Rosebud and Todd County Elementary, Superintendent, principals, PE teachers, the super-fun (and ready to build some bomber ramps at Rosebud Elementary) custodian, Willy, and the "yahoos" prepped and awaited the All Kids Bike staff's arrival with the Sprinter full of the Kindergarten PE Program.
Self-Proclaimed Old Yahoo, Steph, says:
"Working on the reservations in South Dakota, I see poverty on a daily basis. If the kiddos that I work with can have an outlet to create some future independence, increase self-esteem, and have additional health benefits, I felt like it was a win for everyone.
"I wanted to target the Rosebud Elementary School in hopes that the smaller schools on the Reservation would benefit from the bikes as well.
"The All Kids Bike staff were organized, flexible, and so helpful for the day of the bike drop off.
"I would tell anyone that is considering a donation to really analyze the short- and long-term benefits of this program. The cost is minimal when you consider the long-term benefits for these children and the many others that will benefit from the All Kids Bike Kindergarten PE Program year after year.
—Steph
"My favorite part of the process was seeing the excitement in the kids' eyes when they were able to ride the new bicycles around the gym."
Molly never actually proclaimed to be a yahoo; however, her sentiment is quite similar, and when we met again after she came to town, we had fun reminiscing the days' adventure. (Have you ever heard of a 30-point turn? They are super fun on icy hills in Sprinter vans. Just saying.)
Molly heard about All Kids Bike and the Kindergarten PE Program from Steph. Molly said:
"I decided to adopt a school to give the students at Todd County School District an opportunity to learn how to ride bikes and the importance of physical activity.
"Riding a bike is important to me because it is a fun activity that the entire family can do. It promotes physical health as well as motor skills in young children.
"I had Rosebud in mind because it is one of the smaller schools. I felt we could implement the program there as a "pilot" school and eventually expand into the other schools.
"The staff at All Kids Bike could not have been more helpful. They were involved in the process from start to finish and were very knowledgeable about the process.
"I was part of the bike delivery. It went very smoothly. The All Kids Bike staff were very prepared and made the process seamless.
"I would encourage anyone interested in donating to All Kids Bike to do so. It is a wonderful organization that is helping thousands of children and giving them opportunities they might not otherwise have.
"My favorite part of the process was watching the Strider van maneuver an icy hill in Rosebud."
What better way to spend a workday?
I don't want to be picky, but it could be with a Sprinter van that does a little better on snow-packed, hilly roads, WITH the pedal kits actually packed along with the bikes that don't incite mid-panic-attack texts back to the warehouse "happen to have boxes of pedal kits?" With a response from the warehouse manager that says, "Rats. They are sitting here on a pallet. I am sorry."
It's a good thing that Steph, and now Molly, are friends of All Kids Bike – even when given reminders to double-check everything is in the van, I poo-poo the thought, because, well frankly, the warehouse is incredible and I've never had a glitch.
It is all good, Steph lives in town, and it would seem that her vehicle's manufacturer thought about her carrying pedal kits while in the design phase. Post-Christmas Break, before the kids were ready to progress to pedals, she brought in her adorable pup, Samson, for a visit to the office and picked up the boxes full of pedal kits for their delivery to the schools.
Steph's visit was also the time the warehouse manager opted to finally break the news that he was standing on the pedal kits when he received the panicked text from in the back of the van. Panicking and knowing that there's no way the pedal kits were inside.
Life is funny sometimes, so why not add a little more satire to a nearly full ridiculous meter? You might do yourself a favor and find yourself any old yahoo, or perhaps become one yourself.
We often joke about Steph's Grinch-sized heart, but I know for sure it's the size after Grinch's heart grew three sizes. Steph has a way of attracting similar people. Molly is quite a character, who endures Steph during the workday (perhaps we call that character building?). We're incredibly grateful for Molly's heart and her willingness to come alongside her "Yahoo" of a friend – even if that means she is called one too.
You never know what you can accomplish, the life (or lives) you can change, or what impact you can have on a community. NBD? It's a VERY big deal.
---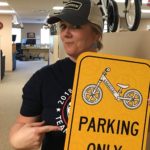 Jenn Smith and her trusty bike, Marmalade, attempt mountain biking in the Black Hills when Jenn isn't chasing down one, or all three, of her wildly different – but oh so fun – kids. Jenn thrives on "peopling," is a self-proclaimed autodidact, and loves to share all the random things she knows – whether you think they're entertaining or not.