I met Mr. Travis Schubauer at Rapid City Area Schools Physical Education Teacher Professional Development Day in April 2019. But first, like many of the stories I write, I feel the need to take you back in time, just a skosh. So, here is a minuscule history of Rapid City Area Schools (RCAS) and All Kids Bike.
In November 2018, Black Hills Harley-Davidson donated a Kindergarten PE Program to each of the fifteen elementary schools in the district. (Is it too early in the story for a shazaam!? Yes? Okay.) The donation made RCAS the largest district in All Kids Bike history to receive the Kindergarten PE Program for every single elementary school in their region. That's a whole lot of Strider Learn-To-Ride Bikes, pedal conversion kits, kickstands, happy kids, and leads to a future of 'wheely' confident people out in the world.
Picture this:
A group of PE teachers in an elementary school gymnasium sitting at tables staged in a large square in the center of the room, a projector in the middle of the ceiling aiming at the concrete brick wall. On this day in April 2019, the Professional Development Day (PDD) was all things All Kids Bike Kindergarten PE Program, which would explain why I was there. *smirk*
You could say that at this point, Travis was a veteran AKB KPEPT amongst his colleagues – (holy acronyms!) – meaning, Travis was quite the pro teaching kids to ride using the All Kids Bike Kindergarten PE Program during PE class. We had proof, too!
Some All Kids Bike team members visited his gym a few times earlier in the year while he facilitated the program for photos and videos. I remember one of those team members coming back from their first time in Travis' gym proclaiming she had received the best hug of her life. (No, it wasn't from Travis.) The hug came from a student of Travis who was SO happy to be learning to ride a bike. The kindergarten student gave her an elation-filled, enthusiastic, sweaty, and squishy embrace, which seems like it really could be the *best* kind of hug.
Okay, let's get back to the group of PE teachers in the gym.
As I mentioned, of the fifteen teachers, Travis was one of the veterans. Not everyone who received the program in the Fall of 2018 placed the Kindergarten PE curriculum into their syllabus right away. Some teachers were waiting on their helmet delivery and fitting from the local hospital trauma department. Some were attempting to wrap their brains around having 25 kindergarten students on bikes in the gym at one time. Great googly-moogly!
At the PDD, we talked all about the Kindergarten PE Program, essential things to know, and the teacher tips and tricks. Fielding questions like:
Is it REALLY feasible to have that many kids on bikes at one time?
What do I take out of my syllabus to put in the biking curriculum?
Aren't the kids going to be crashing into one another?
All legitimate questions, and easily answered –and seriously helpful to have peers that have already finished, tell you precisely how easy it is. Travis was one, among others in the group who had completed the program, who voiced his experience and shared precisely how it all went down.
Travis' class sizes hover at 25 kindergarten students, and with that, he actively motivates his students to support themselves and each other. For example, Travis encourages students to ask a classmate for help if there is a struggle to put on or take off a helmet – the student asking recognizes that sometimes things are hard and that it's important (and okay!) to ask for help when needed. Asking a classmate for help allows the giver to gain an understanding of empathy.
Thanks to this donation and teachers like Travis, the first year, over 1,200 kindergarten kiddos across the district learned how to ride a bike in kindergarten PE.
With the end of the 2019-2020 school year, Travis has completed two years of teaching students to learn how to ride a bike in Kindergarten PE. The All Kids Bike team has leaned on him and the use of his gym a few times over the last two years, and he's obliged quite willingly …although not so willingly as the face or voice of the videos we created from our time in his gym. (It wasn't from a lack of me trying! Although that could have been me attempting to make him my scapegoat so I didn't have to be on camera.)
Travis is an important spoke in the wheel of All Kids Bike PE Program. I say this not because I hope the All Kids Bike team will get to come back to use his space again (…but hoping that door is still open); I say this for the truth of the matter.
You can see this for yourself in his responses to my questions.
How transformative has the Kindergarten PE Program been for your students?
The program has been a really great thing for my kids. In my first year of implementation, I had close to all students riding their bikes with pedals. The best thing about it was the joy they all expressed while doing it. The All Kids Bike Kindergarten PE Program was one of my best units in terms of student engagement. Every kid was determined to ride that bike, so it was really awesome seeing the joy they all felt once they were finally able to accomplish that task.
What changes have you seen in individual students?
I definitely think that this program has helped develop some persistence in my students. Giving up or quitting is often the easy thing to do when things are hard or when you're struggling. I've seen many of my students do just that for other units that I teach. I don't think I had a single Kindergarten student give up on trying to learn to ride this bike, and there were for sure some students who struggled. Learning to ride a bike is a hard thing, and it's even tougher when you are seeing other classmates make it look easy. Not a single one of them gave up in their attempt to ride, and that is really cool to witness.
How easy was it to implement the program in your school?
It was really easy to implement. There was a lot of behind the scenes management that I had to do, but once the students were in class, the program ran pretty seamlessly.
Did you have any reservations about incorporating the Learn-To-Ride program?
Initially, yes. Things that crossed my mind as potential issues with the program were safety and organization, but the program is designed really well in that it allows you to make tweaks where you see fit. So once I actually started the program and saw how it was going, I was able to make adjustments to fit the needs of my students. It was really no different than what we do as teachers every day in our classes.
In your opinion, what is the best part of the Kindergarten PE Program?
The best part of the program is when the students get to pedal for the first time and realize that they already have the skills they need for it. Pedaling a bike is such a huge thing for a kid. It's almost like a mythical creature to them in that they don't really believe they can do it. So when you do put the pedals on for the first time, you can definitely sense a little bit of fear in the kids. I even had kids before the lesson come up and tell me that they weren't going to be able to do it. But then once you start the lesson and they realize the only new skill they are doing is moving their legs, it's so cool watching that fear disappear and turn into pure joy.
Do you have any specific comments about the Kindergarten PE Program curriculum?
The curriculum is designed really well. I think the lessons have been sequenced in a way that makes sense, and that leads to student success.
How easy were the lesson plans to follow?
I think the lessons are really well designed and easy to follow. They are also really easy to make modifications to so that you can tweak them to fit the needs of your students and facilities.
Would you recommend this program to other PE teachers?
Absolutely.
How were the bikes built? Did you help with the build, or was it a community event?
It was a community event. Representatives from our district helped build them at a kick-off event held at the location of the very generous donor. (AKB note – we'll tell the rest of that story in a blog soon!)
Did the media take part?
I was not there, but I do believe the media covered the kick-off event. (AKB note: as I said above, we'll tell the entirety of that story soon!)
What did you find most surprising?
The most surprising thing was how successful all the students are. As a teacher, you kind of wonder to yourself how am I going to be able to teach 25 students to ride a bike at the same time because we all have memories of learning with our parents on the sidewalk and just how difficult it was to master this skill. The program moves them through in such small steps that by the time they get to the pedal stage, it's just another minor skill that can easily be attained.
Is there anything else you would like to add?
I've implemented the program for two years now, and it has been the best unit those two years in terms of student engagement and enjoyment.
I'll say that I absolutely LOVE the way Travis calls his students, "my kids." Travis' skills in the gym have certainly helped All Kids Bike learn and grow in assisting teachers across the nation, but his students are slaying dragons and other mythical creatures as they persevere to their "I DID IT!" moments. And with a teacher like Travis, his kids are learning and growing through persistence, finding pure joy in the process of learning to ride.
---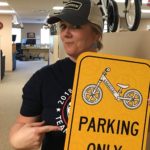 Jenn Smith and her trusty bike, Marmalade, attempt mountain biking in the Black Hills when Jenn isn't chasing down one, or all three, of her wildly different – but oh so fun – kids. Jenn thrives on "peopling," is a self-proclaimed autodidact, and loves to share all the random things she knows – whether you think they're entertaining or not.