Imagine this.
You're scrolling through Facebook.
Scrolling. Liking. Scrolling. Scrolling. Hearting. Whatever your cycle might look like, but one often smiles while in the scroll-zone, watching funny cat videos, silly kid videos, or work memes, all the while you're adding your reaction – whatever that might be.
You're still using your imagination, correct?
Has your heart ever been so touched that you STOP scrolling? I don't mean that you stop scrolling because my heart is full, put your phone down, and go about your day – what I'm suggesting is that you stop scrolling to take action on what touched your heart.
Even more. You stop scrolling to make a CALL on the PHONE.
Not to send a message through messenger, or leave a comment on the post questioning the who, what, when, where, why, and how. We've all probably seen the memes that reference not leaving a voicemail and to send a text message instead, or that tells an individual to stop scrolling long enough to remind them that they matter. Those memes do have some validity in their messaging to an extent – especially in the point I'm trying to make.
I feel that it's quite telling of the individual, their passion, and dare I say the cause (or movement) if one is inspired enough into action to CALL the organization. Unfortunately, no one was here to take this inspired call (we were out delivering more Kindergarten PE Programs within the local area!), so you ultimately leave a message.
As it turned out, Jeremy did all of this, and he didn't go back to scrolling after his voicemail, either. By the time the All Kids Bike team made it back into the office from the delivery and had a chance to return his call, Jeremy had already raised most of the funding to place the Kindergarten PE Program in Big Spring Lake Kindergarten School.
He raised most of the funds needed by using his phone to call members of his community, sharing about the Kindergarten PE Program and what it could do for the kids in Albertville. I asked Jeremy to answer a few questions about All Kids Bike and why biking matters to him. (Please note: Zero bribes paid for answers.)
Why did you decide to "Adopt A School" with the All Kids Bike campaign?
The reason I decided to adopt a school was because I would love to see kids get back outside. As a child, I had a lot of freedom to roam our small Alabama town on my bicycle. I rarely stayed indoors to play video games. I think kids need to get outside and use their imaginations more.
Where did you hear about All Kids Bike?
I follow Strider Bikes Facebook page, and they shared a post about All Kids Bike.
Why is riding a bike important to you?
Freedom, imagination, exercise, adventure
How easy was it to rally your community?
Very easy! Within an hour of seeing the post on Facebook, I had raised half the money. The PE Teacher and Principal were both on board immediately when I mentioned the program, and so far, it's been nothing but positive responses.
If you did a fundraiser, tell us what you did and how that went for you?
A: I didn't do a [specific] fundraiser, I simply made phone calls to local businesses and friends and explained the program and what we were trying to accomplish.
Did you have a positive experience working with the All Kids Bike staff?
It could not have gone any smoother, and Jenn could not have been more helpful.
How were the bikes built? Did you help, or was it a community event?
I offered to help, but Keith Baugh, the PE teacher, had most of the bikes assembled before anyone even knew they had arrived.
What would you say to other donors thinking about donating to All Kids Bike?
Do it. Don't wait for someone else to do it. A lot of people will see a program like All Kids Bike and think, "that's cool, be nice if our school had a program like this," but then do nothing about it. Pick up the phone, make the calls, see if anyone is interested in helping make it happen.
What was your favorite part of the process?
Seeing the kids learn, the excitement on their faces. Some of the kids in our community this may be the first time they've had the opportunity to ride a bicycle, and I'm thankful that it's on a Strider bicycle. My 6 yr old son attends Albertville Pre K and Kindergarten School, but he already knew how to ride. We gave our son a Strider Bike at 2 yrs old. By the age of 3, he was coasting down our dead-end street. By 4, he was on a pedal bike and riding away. He's never ridden a bicycle with training wheels.
My first interaction with Jeremy was in April of 2019, and while it may have taken a few months of school, a summer break, and a staffing change within the school – Big Spring Lake Kindergarten School received their Kindergarten PE Program in September 2019, and the kids in Albertville are learning to ride.
Jeremy is a husband and a dad, a passionate member of his community, a true character, and has a genuine heart for kids. I know that I would want him as a member of my community, and I'm pretty sure the students at Big Spring Lake Kindergarten School are happy he's in theirs.
Will all Jeremy Smith's of the world, please stand up?
Community donors were:
Tyler Baugh – 5 Star Sports Complex
William and Reshia Massey
Jason Simpson – Alfa Insurance
Anna Smith – Weathers Properties of Albertville
Melissa Deason – Wayne Farms LLC
Jason Matthews – Liberty Bank
Chris Duckett
Heath Lokey
Randy Baugh – Gilbert and Baugh Ford
Mark Brickey – Sand Mountain Toyota
Bert and Jennifer Bray
---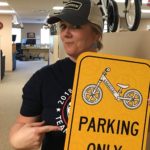 Jenn Smith is a mom to three kids with wildly different personalities. She is a wannabe mountain biker that thrives on peopling. She's also an avid autodidact that loves to share all the random things she knows – whether you think they're interesting or not.