Ambassador Success Story Delivering a Lifelong Skill in Your Backyard!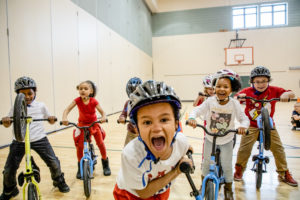 All Kids Bike National Ambassadors are taking their roles seriously when it comes to spreading the word about getting more kids on two wheels. Knowing the Kindergarten PE Program is only able to be offered at zero cost to schools with the generosity of donors, some Ambassadors have stepped up to support schools in their backyards.
Recently All Kids Bike National Ambassadors Rod Woodruff and Marilyn Stemp funded the Kindergarten PE Program in three rural western South Dakota Schools. This was made possible with the donations from the Sturgis Buffalo Chip's Biker Belles® and the Flying Piston Custom Build Event. When you have been involved in motorcycling as long as these two have, two wheels become an essential part of your life and something you feel passionate about sharing with the youth of today.
"I'm delighted to be an All Kids Bike National Ambassador. It's easy to get behind a program with so many positives: for motorcycling, for families, for the health and well-being of not only children but people everywhere." Shared Marilyn Stemp.
Rod Woodruff, owner of the Legendary Sturgis Buffalo Chip, hosts millions of two-wheel travelers during the annual Sturgis Motorcycle Rally in South Dakota. Rod understands motorcyclists and how so many became passionate about all things two-wheeled when riding bikes in their youth.
"So many kids today don't learn how to ride a bike at all. They're all on their cell phone or something right, and so we're missing a lot because when kids get out on motorcycles or bicycles, they start associating with other kids." Shared Sturgis Buffalo Chip President Rod Woodruff.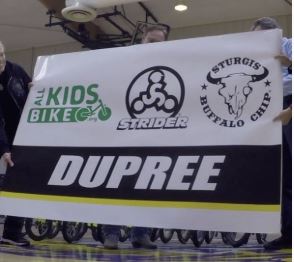 The bikes were assembled by Buffalo Chip staff, packed into a trailer, and hand-delivered to elementary schools in Dupree, Lemmon, and Faith, SD. All three schools received teacher training and certification, a structured eight-lesson curriculum, a fleet of 22 Strider 14x Balance Bikes, 22 Pedal Conversion Kits, 22 fully adjustable helmets, and a five-year support plan.
"This was truly a great day," said Rod Woodruff. "The looks on those little faces is something I'll never forget. It was evident that some of them had never been on a bike, and this was an opportunity for them to learn, to be part of the group, and not left behind."
Rod and Marilyn know teaching this milestone skill through the school system is the best way to reach the greatest number of children in the shortest amount of time. Funds raised in the 2020 Biker Belles and Flying Piston Breakfast events will continue to support the mission of All Kids Bike by providing the Learn-To-Ride Program to additional schools.
Through the Kindergarten PE Program, every child in America will enjoy the mental and physical benefits of riding a bike, as well as the fun, freedom, and mobility it provides. Anyone that rides a motorcycle knows it all starts with riding a bicycle. Balancing is the skill needed to ride a bike successfully, and once achieved, some riders are intrigued to take it to the next level: a motorcycle. Perhaps one day, these kids will ride their motorcycles to the Sturgis Buffalo Chip to visit Rod and Marilyn.
For more information on the Kindergarten PE Program, contact an All Kids Bike staff member today.