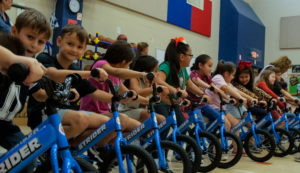 National Ambassadors play a significant role in raising awareness for the All Kids Bike campaign. Changing the world for the better doesn't happen in a day. It takes time, passion, and resources.
The support from National Ambassadors is essential to spreading the message of All Kids Bike and how children all over America benefit from the program. Steve Klein has a passion for two wheels, coupled with his commitment to getting kids on track toward a healthy lifestyle. When Steve signed up as an Ambassador, we did not realize this passion would drive his personal movement in his hometown. Last year Steve took it upon himself, with absolutely no expectation from All Kids Bike, to fund Ella Schorlemmer Elementary School.
"As a small family-owned business, my wife and I decided that we wanted to donate something to our school system that would invest in the future of the young people. By funding this we can help over 880 kids over the next five years learn a lifelong skill that will instill confidence in them like nothing else can." Steve explained.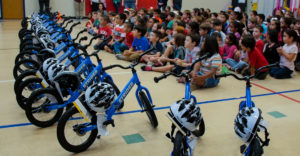 Steve and his wife Joan worked with Schorlemmer Elementary every step of the way. They coordinated a fun day for the children as they unveiled the fleet of bikes and informed them they would all now have the opportunity to learn how to ride a bike in PE class. The excitement was pouring out of each child as they locked eyes on those shiny new Strider 14x Bikes. Steve and Joan shared how important exercise is and how riding a bike will be a great way to get plenty of fun exercise.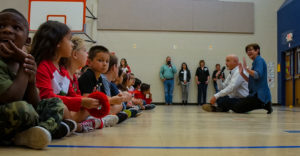 Elizabeth Chandler, Principal of Schorlemmer Elementary was very excited about the donation of the Kindergarten PE Program. "We are thrilled about the activity, movement and exercise this will create and on top of that the safety factor that this brings to our students and our school. A lot of kids walk and bike to school every day and their safety is, of course, our number one priority, this program will teach them all the skills needed to not only be a good bike rider but a safe bike rider."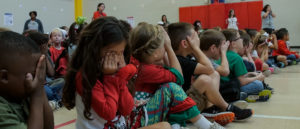 Steve's motto "Healthy minds, healthy bodies will make a difference in our local community. After all, the children are our future" rings true for over 800 students in Victoria, TX who will learn to ride a bike thanks to Steve and Joan. It's not every day someone lives out their passion and commitments so selflessly and we are grateful to have Steve Klein on our roster of Ambassadors.
Check out the video below and watch the fun and excitement had at Schorlemmer Elementary during the bike delivery day!