Chicago Street Race and The NASCAR Foundation Deliver Bikes to Eight Chicago Public Schools in Partnership with All Kids Bike
NASCAR Cup Series' Harrison Burton of Wood Brothers Racing Helps Launch Long-term Program as a Part of NASCAR Commitment to Chicago Public Schools
CHICAGO, Ill. (April 25, 2023) – Today, NASCAR, Chicago Street Race and The NASCAR Foundation brought the All Kids Bike Learn-to-Ride Kindergarten physical education (PE) program to Brian Piccolo Elementary School, as a part of a $48,000 commitment to fund the bike program at eight Chicago Public Schools locations.
Wood Brothers Racing's Harrison Burton joined local area students to help build bikes as part of the All Kids Bike initiative, which is designed to teach every child in America how to ride a bike in kindergarten physical education classes.
"Whether its two-wheels or four-wheels, we're all about positive motion at NASCAR, so this is a great opportunity to help get these students moving," said Burton, driver of the No. 21 for Wood Brothers Racing in the NASCAR Cup Series. "Riding a bike is a terrific way for kids to be active and engage with one another, and I'm thrilled to be here on behalf of NASCAR's Chicago Street Race to further their ongoing commitment to Chicago area students."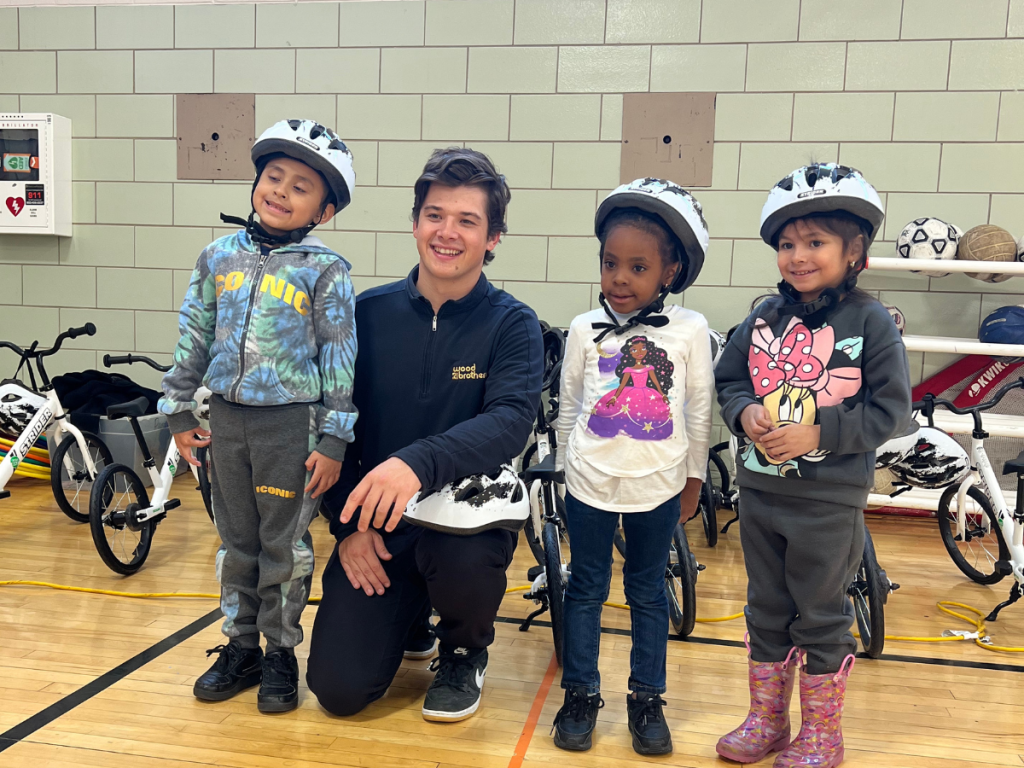 "NASCAR is investing in the Chicago community for the long-term, and this partnership is the latest example of that," said Julie Giese, Chicago Street Race President. "Our Chicago Street Race team is a part of the Chicago community 365-days a year, and we are honored to partner with a wonderful organization like All Kids Bike to help serve our fellow Chicagoans."
The Tuesday launch event included an exciting bike reveal, an introduction of the Learn-To-Ride Program to students, and a presentation with information from school staff. The long-term investment includes a full Learn-To-Ride curriculum, teacher training, a fleet of 24 Strider Balance Bikes, pedal-conversion kits, helmets and a teacher instructor bike, plus resource portal access and live support for the life of the program for eight local elementary schools.
"From the beginning of our existence, we felt learning to ride a bike should be an instrumental foundation that all kids deserve," said Lisa Weyer, Executive Director of All Kids Bike. "It is our hope that by teaching kids how to ride a bike in Kindergarten PE class, we are leaving a legacy for the next generation of riders. We're excited to partner with NASCAR, Chicago Street Race and The NASCAR Foundation and make an impact far beyond the race."
By teaching bike riding at the entry-level in a public school system, All Kids Bike is providing the knowledge and a positive foundation of a lifelong skill."  The All Kids Bike Kindergarten PE Program boasts an inclusive, proven Learn-To-Ride curriculum that offers every child the opportunity to experience the joy of two wheels. For more information, visit AllKidsBike.org.
About Chicago Street Race
The Chicago Street Race is the first-ever NASCAR Cup Series street race. Located in downtown Chicago, the event will take competitors past and through many of the city's most renowned downtown landmarks on Michigan Avenue, South Columbus Drive, South Lake Shore Drive and the start-finish line near Buckingham Fountain. The Cup Series will be joined by the NASCAR Xfinity Series as part of a one-of-a-kind sports and entertainment festival headlined by Miranda Lambert, The Chainsmokers, Charley Crockett, and The Black Crowes over the Fourth of July Weekend on July 1-2, 2023. For more information, visit NASCARChicago.com.
About NASCAR
Celebrating its 75th Anniversary in 2023, the National Association for Stock Car Auto Racing (NASCAR) is the sanctioning body for the No. 1 form of motorsports in the United States and owner of 16 of the nation's major motorsports entertainment facilities. NASCAR sanctions races in three national series (NASCAR Cup Series™, NASCAR Xfinity Series™, and NASCAR CRAFTSMAN Truck Series™), four international series (NASCAR Brasil Sprint Race, NASCAR Mexico Series, NASCAR Pinty's Series (Canada), NASCAR Whelen Euro Series), four regional series (ARCA Menards Series, ARCA Menards Series East & West and the NASCAR Whelen Modified Tour) and a local grassroots series (NASCAR Advance Auto Parts Weekly Series). The International Motor Sports Association™ (IMSA®) governs the IMSA WeatherTech SportsCar Championship™, the premier U.S. sports car series. NASCAR also owns Motor Racing Network, Racing Electronics, and ONE DAYTONA. Based in Daytona Beach, Florida, with offices in eight cities across North America, NASCAR sanctions more than 1,200 races annually in 12 countries and more than 30 U.S. states. For more information visit www.NASCAR.com and www.IMSA.com, and follow NASCAR on Facebook, Twitter, Instagram, and Snapchat ('NASCAR').
About Strider® Education Foundation and All Kids Bike
The All Kids Bike Learn-to-Ride Kindergarten PE Program launched in 2018 with a simple mission: give every child in America the opportunity to learn how to ride a bike. With everything needed to teach kids how to ride a bike, the program includes teacher training and certification, a fleet of 24 bikes, pedal conversion kits, helmets, an instructional bike for the teacher, plus resource portal access and live support for the life of the program.  All Kids Bike Learn-to-Ride Kindergarten PE Programs are active in over 900 schools across all 50 states, teaching more than 100,000 kids to ride each year. For more information, please visit www.allkidsbike.org.