Mayor Jacobs Joins Coca-Cola Consolidated and All Kids Bike to Empower Knox County's Youngest Students
(Knoxville, TN, October 3, 2023) – A momentous occasion unfolded today at Lonsdale Elementary as Mayor Jacobs, along with representatives from Coca-Cola Consolidated and All Kids Bike, gathered to celebrate the launch of an exciting initiative aimed at teaching every child in America how to ride a bike in kindergarten PE class.
Coca-Cola Consolidated, a steadfast advocate for community enrichment, has generously donated $30,000 to bring the All Kids Bike® Kindergarten Learn-to-Ride Program to life in five Knox County Elementary Schools: Amherst Elementary, Blue Grass, Christenberry, Lonsdale, and Northshore. This innovative program equips each school with a 24-fleet of bikes, pedal conversion kits, helmets, one teacher instruction bike, and comprehensive teacher training. With these resources, educators will empower young students to progress from balance to confident bike riding in just eight lessons.
Knoxville Mayor Jacobs shared, "I'm thrilled to see the community come together to support Knox County's youngest students and grateful to all of those who came together to make it happen. Learning to ride a bike is a rite of passage for every child, and this initiative will help Knox County kindergarteners build confidence and physical well-being, all while having fun."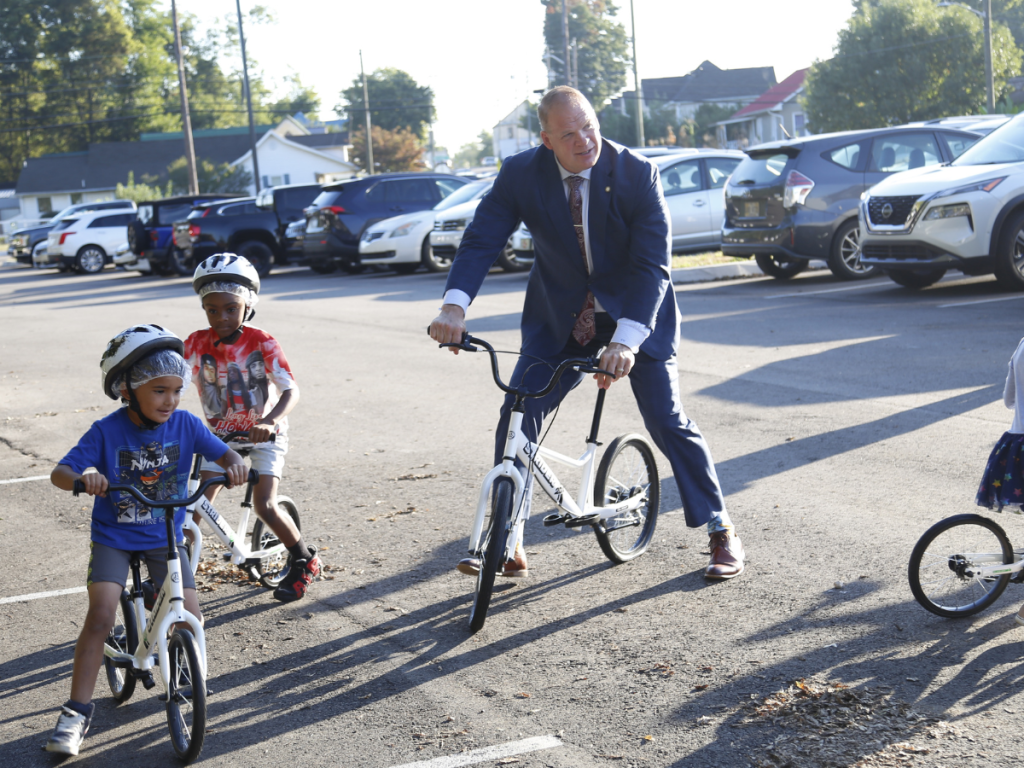 "At Coca-Cola Consolidated, we believe in building stronger, healthier communities, and teaching children how to ride a bike is a fantastic way to encourage physical activity, build confidence, and create lasting memories. We're excited to see the positive impact this program will have on the young learners of Knox County." Grey Brewington, General Manager Sales Operations, Coca-Cola Consolidated.
This program is poised to make a profound impact, with approximately 570 kindergarten students across the five schools expected to learn to ride a bike annually. The equipment provided is designed to last 7-10 years, promising to benefit over 5,700 children over the next decade.

Lisa Weyer, Executive Director of the Strider Education Foundation, the nonprofit behind All Kids Bike, shared her thoughts on the transformative power of riding a bike, saying, "The ability to ride a bike develops physical and mental well-being and instills confidence, which can lead to better focus in the classroom. We're deeply grateful to partner with Coca-Cola Consolidated, Mayor Jacobs, and Kroger to bring the All Kids Bike Learn-to-Ride Kindergarten PE Program to these schools and lay the foundation for a lifelong skill."
Coca-Cola Consolidated, with its commitment to fostering healthy and vibrant communities, continues to be a beacon of corporate responsibility. The collaboration between Coca-Cola Consolidated, All Kids Bike, and Knox County Schools exemplifies the potential when public and private sectors unite for the betterment of society.
"We know that physical activity is critical to our students' overall well-being. I want to thank Coca-Cola Consolidated's generous contribution, in partnership with All Kids Bike, to the physical education programs at our schools." Shared Knox County Schools Superintendent, Dr. Jon Rysewyk. "This will have a lasting impact on our students, particularly those facing limited opportunities to ride a bike outside of school."