Local organization donates $6,000 to bring the All Kids Bike Kindergarten PE program to Northridge Elementary
(Bismarck, ND, 12/06/2022): The All Kids Bike Kindergarten Learn-to-Ride Program is a 24-fleet of bikes, pedal conversion kits, helmets, one teacher instruction bike, and certified curriculum teacher training, which is everything needed to teach kids how to progress from balance to riding a bike in 8 lessons at Northridge Elementary. Funding for this program was graciously made by MDU Resources Foundation. MDU Resources representatives were joined by Governor Doug Burgum for the official bike unveiling to the students!
Cory Fong, MDU Resources Director of Communications and Public Affairs, shared, "At MDU Resources, our tag line is Building a Strong America®, and we believe that begins with building STRONG KIDS. We're pleased to provide funding to bring All Kids Bike to schools like Northridge Elementary as we believe it is important for kids to get exercise, be well physically and mentally, and understand what it means to have freedom and mobility and learn early in life the benefits of riding bike and doing it safely."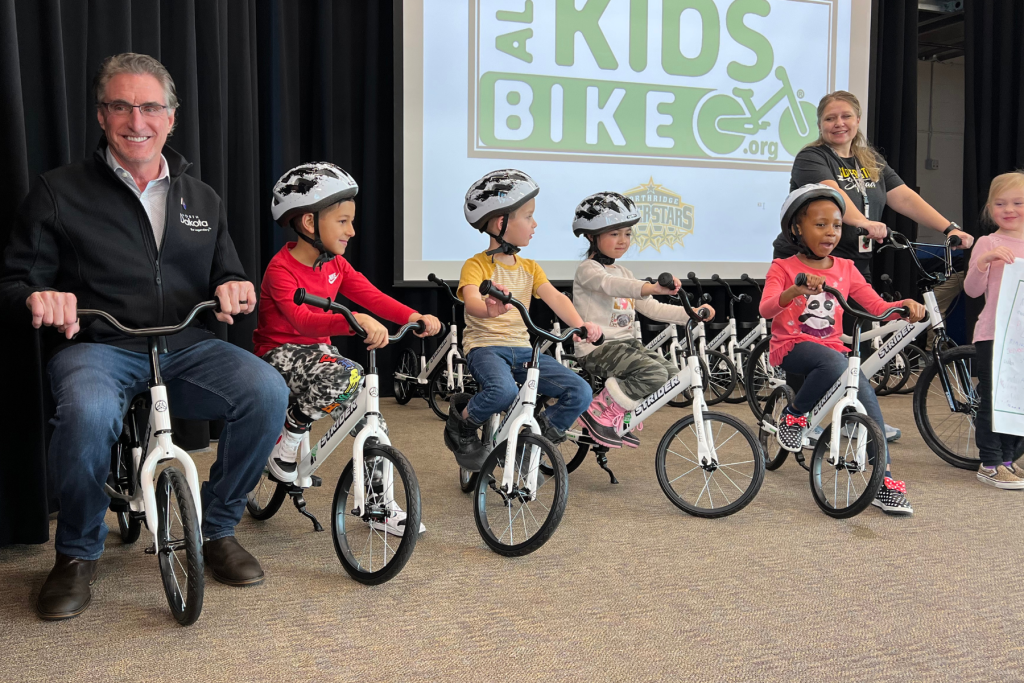 At Northridge Elementary, this program will teach approximately 75 kindergarten students how to ride a bike on an annual basis. With the equipment lifespan of 7-10 years, this will impact up to 750 kids over the next decade!
Northridge is eager to kick off the program in March. PE Teacher, Sherry Berreth, who applied for the program was thrilled to welcome MDU Resources and Governor Burgum to the school and speak to the kids about the importance of having fun, learning to ride, and being safe. "This donation from MDU Resources Foundation will provide the kindergarten students at Northridge Elementary an opportunity to learn to ride a bike. MDU Resources has made an impact on our school community by helping provide an innovative experience that we would not otherwise have funding for. The smiles on our students' faces were priceless. We appreciate their generosity, and our students will benefit from this donation for years to come."
About Strider® Education Foundation and All Kids Bike
All Kids Bike is a national movement led by the Strider Education Foundation, which is a 501(c)3 organization formed in 2017. The All Kids Bike Learn to Ride Program was launched in 2018 and is currently actively running in over 800 schools in all 50 states.
ABOUT MDU Resources Group
MDU Resources Group is committed to supporting the communities where it operates. MDU Resources believes its success is directly related to a healthy social and economic environment. Through its Foundation, MDU Resources shares its success and helps the communities where their companies serve and operate become better places to live and work. The Foundation is proud of the more than $40 million it has distributed to qualified charities across the states where MDU Resources serves and operates since its inception. MDU Resources aims for the Foundation's efforts to continue having a positive impact within their communities. 
Contact:
Strider Education Foundation/All Kids Bike
2221 North Plaza Drive
Rapid City, SD 57702
605-956-3877
www.allkidsbike.org
media@allkidsbike.org