Meet the Newest All Kids Bike National Ambassador; Dream Chaser Racin' Janette Thornley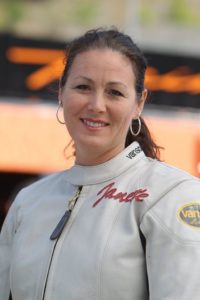 We absolutely love sharing the news when another National Ambassador joins the All Kids Bike Team to help spread the mission of getting every child in America on a bicycle in kindergarten. Today we are excited to brag about Janette Thornley joining the roster.
Janette Thornley is an entrepreneur, professional drag racer, avid motorcyclist and she is just as excited as we are about becoming a National Ambassador for All Kids Bike.
All Kids Bike is a national movement with a mission to teach every child in America how to ride a bike in kindergarten PE class. The movement, led by the Strider® Education Foundation, places Learn-To-Ride Programs into public schools for free, using donations from individuals, businesses, and organizations.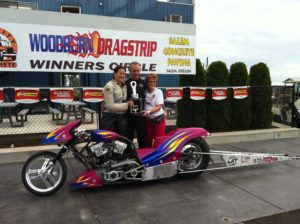 "The thought of providing additional motor skills development to children at the kindergarten level is brilliant, it's a big deal, especially knowing how it helped shape my development as a child. I couldn't help myself to want to roll up my sleeves and help!" Janette said.
Ambassadors play a vital role in raising awareness for the All Kids Bike campaign. A primary goal of the campaign is to collect 1 million signatures from fans in support of the mission. This vast show of public support helps secure the funding from donors that ultimately puts programs into schools.
Janette Thornley was nominated as a National Ambassador because of her commitment to getting kids on the right track toward a healthy lifestyle by introducing them to the fun and excitement of riding a bike. Thornley explained, "I have a network of supporters through my community, race program and professional connections that have the same core values and will jump at the chance to support me and our mission!"
"Bicycling is much more than a simple recreational activity for children. It's a proven, lifelong game-changer," Says Ryan McFarland, All Kids Bike Founder. "Together, we have the power to chart a better, healthier course for our children's future. And it's as simple as riding a bike."
To learn more about the All Kids Bike campaign, or to add your name to the list of fans, visit https://allkidsbike.org/#become-a-fan