Students Advocate for Positive Change!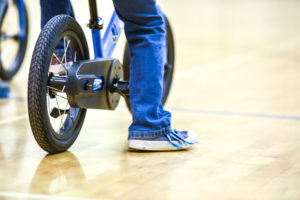 When students advocate for each other to have a positive change in their school their voices get heard, that's exactly what PE teacher Cathi Dallensander knew would happen.
Along with another teacher, Cathi entered North Street School of Windsor Locks, CT into the All Kids Bike Program.  She knew how much the children wanted to learn how to ride bicycles in PE class.  Dallensander said, "I really thought the students were really coming from a place of advocating for themselves and for each other to have a positive change here at our school and so to have that voice of the students I really thought was a very powerful thing."  It was powerful, so powerful in fact that it caught the attention of TSI Harley-Davidson and with their support they were able to entirely fund the school.  "With their help, we now have everything we need to teach the kids how to ride a bike, this includes helmets, to our teacher certification, to the Strider 14x bikes which easily take the kids from balance mode to pedal mode during the 8-week curriculum with the included pedal conversion kit.
The goal is to have more than 600 kindergarteners riding over the next five years, which the motorcycle company says looking at the kids enjoy the bikes, makes it worth it.  Harry Levesque, the owner of TSI Harley said, "You know it brings a smile on my face to see them having a good time, it does a lot for me."
https://www.fox61.com/article/news/local/outreach/awareness-months/windsor-locks-school-receives-free-bikes-as-part-of-a-prgram/520-0755d629-dd4c-48b7-b08b-7509ca83f896
To see more of the story watch this news piece from CT local news station Fox 61
To find out just how easy it is to fund a school in your community please contact one of our All Kids Bike staff today.