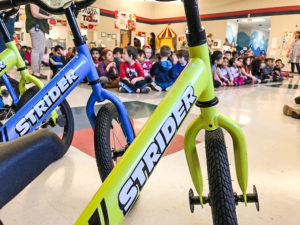 John Hunter grew up in the very small town of Noel, Missouri. We are talking a population of under 1500, small. Growing up in this town was the perfect childhood for John, he had his bike and that allowed him to go anywhere, and more importantly everywhere needed for his family. John's mom had MS and that left her unable to drive. John picked up the family responsibilities which included riding his bike to the grocery store to pick up what was needed. "I actually got really good at riding with no hands so I could carry more bags and a gallon of milk".
He told me. John knows firsthand just how vital a bike can be to families that are in the same circumstances he was as a young boy. "I know how important that bike was to help my family out, and I also know how important that bike was to ensure I had plenty of fun and felt independent."
Over 30 years later and John took his passion for bicycle riding with him to create
Progressive Bike Ramps
, manufacturer of sustainable bike ramps for bike parks, recreational trails, and bike recreation areas of all kinds. Building bike recreation parks is a passion that grew from John's love of biking as a kid.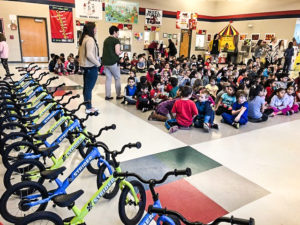 When John heard about the All Kids Bike program via Strider Bikes he knew he had to get this program into the elementary school he attended in Noel, Missouri. Riding a bike is a "rite of passage" that all kids
deserve to experience, I wanted to make sure the kids at Noel would get that no matter what. It's no secret kids are not riding bikes as much today, video games have taken the lead, but what biking provides is just as stimulating as a video game, you're moving, you're thinking, you're making decisions, everything is going past you, moving at a quick pace. It's different than being on a ball field waiting for someone to hit the ball, riding a bike gets you engaged right away and keeps you engaged. Kids relate to that naturally. Parents today seem scared to let their kids outside, but it's still a safe world, and better yet, if a young kid learns to ride a bike in school, chances are he will encourage his siblings, maybe his parents and they now have a great family activity to do together."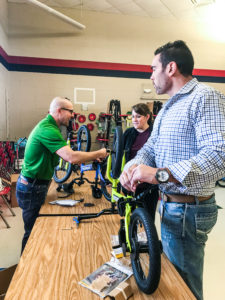 Once the other schools in the county saw what can happen, they quickly got together with the PTA and started fundraising to get the program in their schools. "The program will launch the start of the next school season in Pineville and we are expecting to have a celebration party, this will allow the community to get together and build the bikes. We will share ideas with the other communities on ways to raise money and get their schools funded. There are many ways you can rally together in your own community to get the program funded, working together makes anything possible and I believe we will get all 11 elementary schools in the county funded before long. I really wanted Noel to be among the first schools in the county to offer this program, I know this will be country wide before long." John wanted to share this encouragement with other donors considering the All Kids Bike program, "Do it. Do it now. Get in early on this amazing movement. The kids deserve it. Learning to ride a bike is the perfect analogy for life. There will be spills, thrills, but you get back up and move forward, and for the majority of the time, it makes you smile and laugh and have fun. Kids need to experience this, it will benefit them in so many different ways."
We asked John what his favorite part of being a donor for Noel school was and he quickly answered "seeing the excitement from the kids, there's nothing better. I know for some of these families this skill will be necessary like it was for me and my family. It's good to help develop this skill."
If you are ready to rally your local community and or PTA to start fundraising to get the Learn-To-Ride program in your school
reach out today
and one of the All Kids Bike staff will be happy to help you.
Consider
signing your name in support
, this will also help show donors how many people believe in the power that can happen when All Kids Bike!