Mitchell South Dakota- All Kids Bike Comin' In HOT, Thanks To Klock Werks!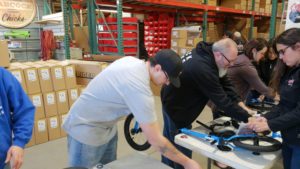 Imagine a future where bicycles in elementary schools are as fundamental as whiteboards, racks of balls, and rows of desks. That is now a reality for Mitchell, SD area public schools thanks to Alan and Jennifer Bainbridge of Klock Werks. Inspired by the generosity of Strider founder Ryan McFarland when he gifted a Strider Balance Bike to their son several years back, Jennifer was fueled to "pay it forward" and take part in the All Kids Bike program by becoming a donor.
"I was concerned with getting my own kids outside more and then decided well, why should I stop there? Why not help get all kids in Mitchell outside more and learn how to ride a bicycle."
That is when Jennifer's husband Alan contacted the Strider Education Foundation about the newly developed program All Kids Bike, which includes an eight-week curriculum to teach kindergartners to ride bicycles. Alan and Jennifer came up with the $2500 donation to fund the program for Gertie Belle Rogers school in Mitchell. After learning of their employee's plans, Brian Klock and Dan Cheeseman, co-owners of Klock Werks decided to help fund the program for the other elementary schools in Mitchell.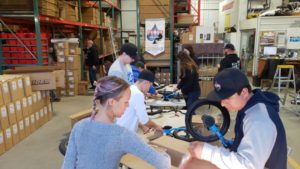 Now every kindergartner in Mitchell public schools will be able to learn how to ride a bike.
Mitchell School District Superintendent Dr. Joe Graves said the donation was a "wonderful surprise" for the district. –Mitchell Daily Republic
"Usually, when we need something, we need to go out and ask, but this was brought completely unrequested," he said. "We try to have a diverse physical education program, and this really just enhances that for us. We want kids to be as active as possible, and a bicycle will encourage them to do that. Hopefully, it inspires them to continue beyond the unit." -Mitchell Daily Republic
Studies show that riding a bike not only improves physical fitness, it also benefits student learning, development, and mental health. The bike program starts the children learning on a balance bike, over time the Strider Bikes convert to pedal bikes. This conversion makes learning to ride easier than ever before.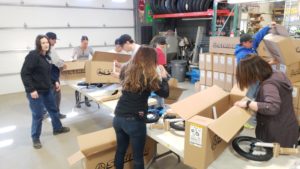 Alan and Jennifer Bainbridge, both long-time motorcyclists look forward to seeing the benefits of the children learning to ride bicycles. "It's been a blessing and journey filled with a lot of tears, happy tears, very happy tears. We are looking forward to seeing the students go through the program and watch the smiles on their faces as they learn to ride a bicycle. The kids were filled with excitement as they watched us just bringing the bikes in, can only imagine how excited they will be when they get to ride them!"
As awesome as this story is, it doesn't end here. Alan's very close friend Jeff Miedema of Miedema Sanitation is on the throttle to get the All Kids Bike program into the Mitchell area Catholic schools, John Paull II and Mitchell Christian. Alan and Jen jumped on board with a $1,000.00 donation to help the Facebook fundraiser Jeff started. They now have donations that will cover both schools, as well as the storage racks and totes too! Alan wanted to make sure we mentioned and thanked Quality Wood Design for making the racks for all 5 schools.
Sure is great to see all of the people of Mitchell, SD join in so generously to help the mission to teach every child in America how to ride a bike in kindergarten PE class.