When You Believe In Something, Nothing Can Stop You.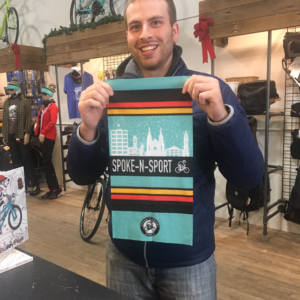 Sioux Falls bicycle business Spoke-N-Sport sells custom printed buffs to raise money for the All Kids Bike Campaign.
Creating something that will build lasting value and potentially change the lives of children for the better was the drive behind Sioux Falls Spoke-N-Sport owner, Chad Pickard's goal to raise funds needed to bring the All Kids Bike movement to Cleveland Elementary School in Sioux Falls, South Dakota.
Riding a bike is a rite of passage all children should be able to experience
"People all over are willing to contribute to a good "feel good" cause. I don't think that's anything new. Look at all the money raised via GoFundme.org. It alone is responsible for receiving over 140 million dollars a month. People have money and they are willing to part with it." Pickard explained to us when he decided to create the fundraiser to help kindergarten kids learn how to ride a bike in PE class.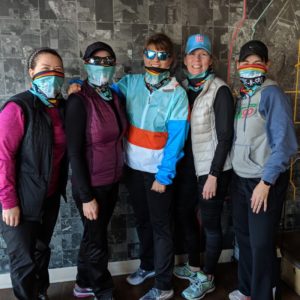 "In the past, we've used our New Year's Day Bike Ride as a fundraiser for different things. Several years in a row the money we raised went to a bike repair program for those in need of transportation. We'd raise about $1500 a year. Not a lot but it was something. This year we were going to use the money for snow grooming equipment for fat bikes, but when you stopped by the store it only made sense to invest in a local school, as that would have a greater return for the local bike scene. The decision was easy. Before either the snow grooming equipment or the Strider program was an option, we had already stumbled on a manufacturer that could do a full custom buff for roughly 50 cents per piece. Our sweet Spoke-N-Sport toques were already a good seller, how could a sweet looking buff fail us?"
Spoke-N-Sport ordered the custom printed buffs and over 30 were already sold before they could even un-box them.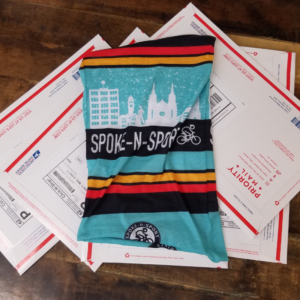 "Out of the 300 we ordered we've sold about 250 @ $10 each. That's a total of $2500 and our investment in the buffs was roughly $150 plus some shipping." Chad went on to say how the fundraiser was a win-win for Spoke-N-Sport, between the media interest in the story and the number of people out wearing the buffs with the Spoke-N-Sport logo and colors.
"People are getting something for giving something. Even if it's something small, it's still something for giving." Pickard believed the buffs would have more of an impact than just a straight donation via Go Fund Me and is rather pleased with how it all turned out.
Now every child at Cleveland Elementary School in Sioux Falls, SD will have the ability to learn how to ride a bike. The fundraiser raised enough money to fully fund the Kindergarten PE Program which equips schools with everything teachers need to teach children how to ride bikes, including teacher training and certification, a structured 8-lesson curriculum, a fleet of 22 Strider® 14x Balance Bikes, 22 Pedal Conversion Kits, 22 fully-adjustable helmets, and a five-year support plan. Through the Kindergarten PE Program, every child will enjoy the mental and physical benefits of riding a bike, as well as the fun, freedom, and mobility it provides.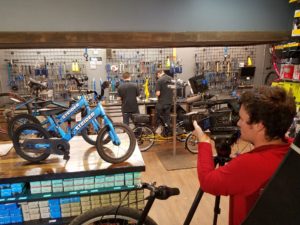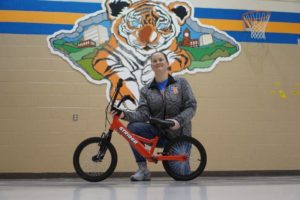 When the Strider Balance Bikes arrived at the Spoke-N-Sport store staff enjoyed building the bikes together and getting them ready to deliver to the school.
"I am excited that the community is willing to step in and help bring Strider Bikes into the school. I wish everyone could see the joy the kids will have when they see the bikes or when they learn to ride that bike. That happiness hopefully will become contagious for everyone in the family and we can get more people biking in our great community." -Gretchen Johnson Cleveland PE Teacher
Not only do the bikes provide a plethora of health benefits—from increasing brainpower to improving cardiovascular health in the children—but this is also great for the environment and convenient for parents to engage their children in outdoor activities.
Join the movement, become a fan today with just your signature!