Cross Country Chase Partners with All Kids Bike to Influence the Next Generation of Riders
All Kids Bike is on a mission to teach every child in America how to ride a bike in kindergarten PE class.
Springfield, IL (9/21/2022) – Cross Country Chase, a motorcycle challenge, kicked off their 2022 'Route 66' ride across America, but not before riding their vintage machines to Hazel Dell Elementary for a special surprise. Cross Country Chase made a donation to the All Kids Bike program to provide students the opportunity to learn to ride bikes in their PE class. The All Kids Bike Kindergarten Learn-to-Ride Program is a 24-fleet of bikes, pedal conversion kits, helmets, one teacher instruction bike, and certified curriculum teacher training, which is everything needed to teach kids how to progress from balance to riding a bike in just 8 lessons.
Cross Country Chase Founder Jason Sims knows just how much value learning to ride a bike will have for years to come, "Myself and wife LeeAnn are proud to be All Kids Bikes Ambassadors and support this wonderful program, there is no better feeling that you can get from witnessing the excitement and joy of the kids. We hope the impressions we create will keep these young ones on 2 wheels and learn the skills to be able to compete in the Motorcycle Cannonball or Cross Country Chase on an antique motorcycle in the future."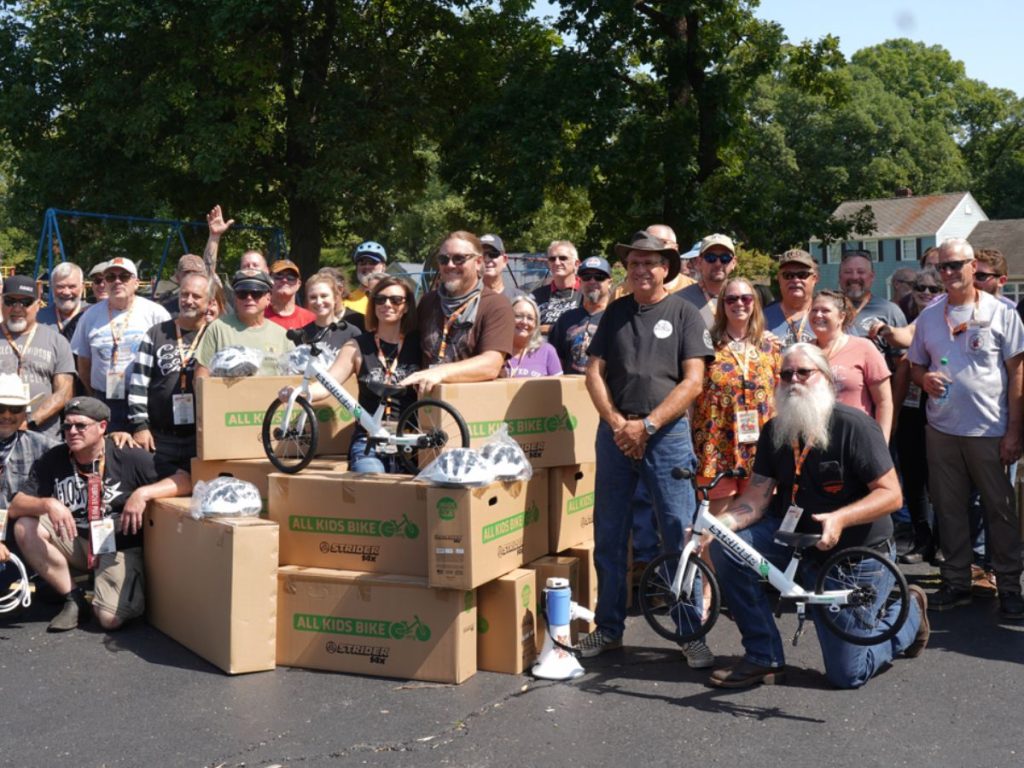 At Hazel Dell Elementary, this program will teach approximately 26 kindergarten students how to ride a bike on an annual basis. With the equipment lifespan of 7-10 years, this will impact up 260 kids over the next decade.
Lisa Weyer, Executive Director of the Strider Education Foundation explains, "The ability to ride a bike develops physical and mental well-being and instills confidence which can lead to better focus in the classroom. By teaching bike riding at the entry-level in a public school system, we are providing the knowledge and a positive foundation of a lifelong skill."
"This program is a wonderful opportunity for our students." Hazel Dell Principal, Tiffany Burris. "I was a child who never really learned to master the skill of riding a bike and so I am thrilled to provide this learning experience for all of our Kindergarten and first graders. Riding a bike is a skill that will last the children a lifetime and they can have fun doing it. It will also help some of our younger students develop those fine motor and listening skills that are also lifelong learning skills."
To learn more about the All Kids Bike initiative, visit AllKidsBike.org.
About Cross Country Chase

Cross Country Chase is a cross country challenge for riders with motorcycles that were manufactured between 1930 – 1960. The Chase is a test of endurance, speed, navigation, and knowledge. Riders and machines compete an average of 250 miles per day over a 10-day period. No technology is allowed by riders as they will navigate the course of the Cross Country Chase with the assistance of paper maps (no using GPS). Thus, making it more authentic to when these motorcycles were kings of the highways. Cross Country Chase is dedicated to giving back to the communities they visit.
About Strider® Education Foundation and All Kids Bike
All Kids Bike is a national movement led by the Strider Education Foundation, which is a 501(c)3 organization formed in 2017. The All Kids Bike Learn to Ride Program was launched in 2018 and is currently actively running in over 680 schools in all 50 states.
Contact:
Strider Education Foundation/All Kids Bike
2221 North Plaza Drive
Rapid City, SD 57702
605-956-3877
www.allkidsbike.org
media@allkidsbike.org