Nashville, TN (9/14/2022): Coca-Cola Consolidated made a $25,000 donation to provide All Kids Bike Kindergarten Learn-to-Ride Programs to five Metro Nashville Public Elementary Schools; Park Avenue Elementary, Joelton Elementary, Ida B. Wells Elementary, Cole Elementary, and Napier Elementary. The All Kids Bike Kindergarten Learn-to-Ride Program is a 24-fleet of bikes, pedal conversion kits, helmets, one teacher instruction bike, and certified curriculum teacher training, which is everything needed to teach kids how to progress from balance to riding a bike in 8 lessons.

Mayor John Cooper joined representatives from Coca-Cola Consolidated, All Kids Bike, and Metro Nashville Public Schools at the bike reveal kick-off celebration at Park Avenue Elementary on September 12th.

Mayor Cooper shares the value this will have on Nashville students, "Experts tell us kids need 60 minutes of activity a day to live a healthy life. The partnership between Metro Nashville Public Schools and Coke Consolidated will offer great value in teaching children how to ride a bike safely and maintain a healthy lifestyle. I'm grateful for Coke Consolidated and their generosity and the opportunity it will provide to so many Metro students."

"Serving others is a key pillar of our Purpose and we're honored to partner with All Kids Bike to provide Metro Nashville students the opportunity to learn the lifelong skill of riding a bike," said Keith Burnette, Mid-South Market Unit Vice President at Coca-Cola Consolidated. "As Nashville's local bottler, our team is committed to serving our teammates, our customers and our consumers throughout the city."

At all five schools, this program will teach approximately 329 kindergarten students how to ride a bike on an annual basis. With the equipment lifespan of 7-10 years, this will impact up to 3,290 kids over the next decade.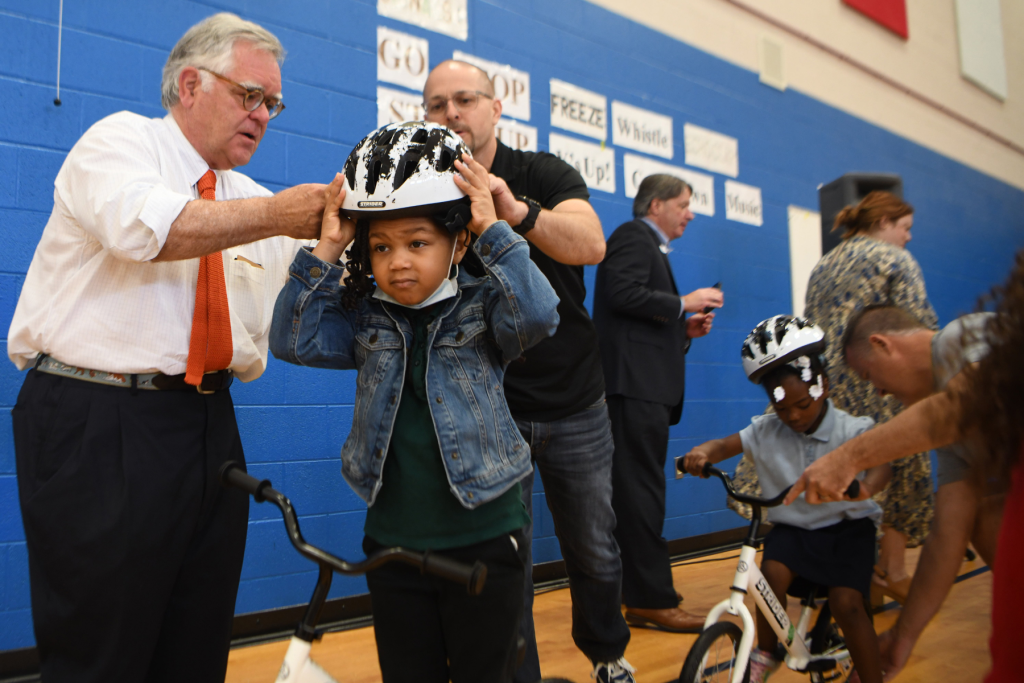 "It's so important that students of all ages and backgrounds have opportunities to move around and exercise their bodies as well as their minds every day," MNPS Director of Schools Dr. Adrienne Battle said. "This generous donation will help make that happen for some of our youngest learners. We're grateful to Coke Consolidated for donating more than 100 bikes and other equipment to our schools and to All Kids Bike for helping teach our kindergarten students how to ride."
About Coca-Cola Consolidated
Coca-Cola Consolidated is the largest Coca-Cola bottler in the United States. Our Purpose is To Honor God in all we do, To Serve Others, To Pursue Excellence and To Grow Profitably. For over 120 years, we have been deeply committed to the consumers, customers and communities we serve and passionate about the broad portfolio of beverages and services we offer. We make, sell and distribute beverages of The Coca-Cola Company and other partner companies in more than 300 brands and flavors across 14 states and the District of Columbia to over 60 million consumers. Headquartered in Charlotte, N.C., Coca-Cola Consolidated is traded on the NASDAQ Global Select Market under the symbol "COKE." More information about the Company is available at  www.cokeconsolidated.com. Follow Coca-Cola Consolidated on Facebook, Twitter, Instagram and LinkedIn.

About Strider® Education Foundation and All Kids Bike
All Kids Bike is a national movement led by the Strider Education Foundation, which is a 501(c)3 organization formed in 2017. The All Kids Bike Learn to Ride Program was launched in 2018 and is currently actively running in over 670 schools in all 50 states.