Indian Motorcycle St. Paul and The PLUM Catalyst are Providing Bikes, Helmets & Training to Encourage Young Riders
St. Paul, MN. (Jan. 25, 2023) – Indian Motorcycle St. Paul, with generous sponsorship from The PLUM Catalyst, has teamed with All Kids Bike to provide Highwood Hills Elementary School in St. Paul with a free fleet of Strider bicycles, helmets, and expert instructions to help students develop bicycle riding skills. The new Strider bikes will be presented to the school on Feb. 15.
All Kids Bike is a national program designed to introduce children to bicycling with proper safety gear and expert instruction. It helps nurture future bicycle enthusiasts as the Strider bikes can be converted from balance bikes to pedal bikes. Most importantly, the program encourages physical and group activity for youngsters who might otherwise be sedentary in their free time.
Nationwide, motorcycle advocacy groups and industry members such as Indian Motorcycle St. Paul are raising funds to provide schools with the All Kids Bike Kindergarten PE Program. The St. Paul dealership received outstanding support from The PLUM Catalyst, a Twin Cities-based strategy and innovation consulting firm focused on transportation and new technology.
"The program introduces kids to the joys of bicycling in a safe, fun way they can share with their friends and classmates," said Amanda Bramble, Co-Owner of Indian Motorcycle St. Paul. "It's an inclusive program that provides schools with physical activity resources that are durable and can be used for several years. This fleet alone can inspire an entire generation of new bicycle riders, and can get kids active to improve their health and well-being."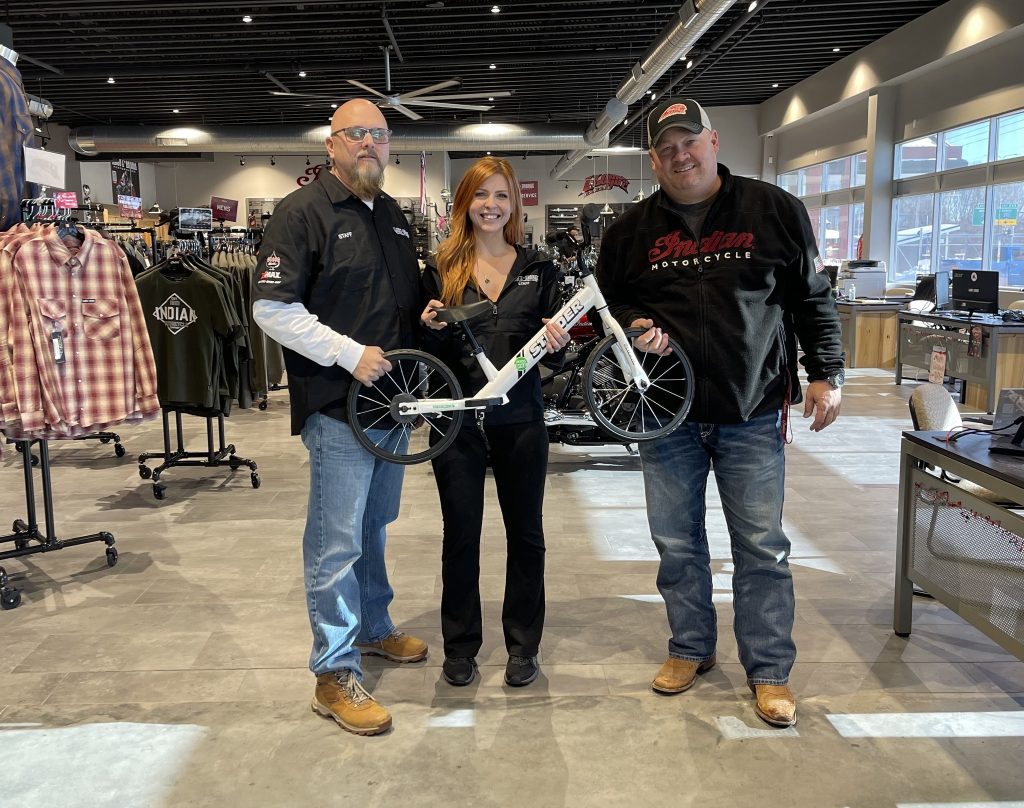 Tammy Meehan Russell is founder and President of The PLUM Catalyst, which is focused on inspiring the next generation of riders through STEM programs, camps, and outreach via programs such as All Kids Bike. She said supporting this initiative locally ideally suits her firm's mission.
"We're dedicated to facilitating private-public partnerships, so this is a perfect fit for us," Meehan Russell said. "While we commonly focus on the development of new transportation technologies, the benefits of providing tried-and-true bicycle technology can pay immense dividends to our community. Healthy, engaged young students are better poised for learning and success."
Highwood Hills Elementary School offers a polytechnic curriculum that specializes in technical and career-related fields. According to the school's website, the school "exposes students to technical fields using age-appropriate lessons and curricula. It explores student interests, more voice and choice, including partnership with industries and other organizations, as they build on their skills and prepare their portfolio for future college or career-oriented fields."
ABOUT ALL KIDS BIKE
All Kids Bike is a national movement to place Kindergarten PE Learn-To-Ride Programs into public schools, using donations from individuals, businesses, and organizations. The All Kids Bike Kindergarten PE Program boasts an inclusive, proven Learn-To-Ride curriculum that offers every child the opportunity to experience the joy of two wheels. Launched in March 2018, there are already over 800 schools across all 50 states, teaching thousands of children how to ride over the next 7-10 years.