All Kids Bike National Ambassador Jamie Robinson Visits Strider HQ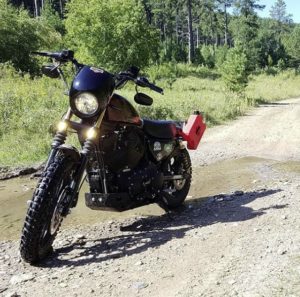 What happens when All Kids Bike National Ambassador Jamie Robinson heads to the Black Hills of South Dakota to ride motorcycles? Well, he stops in at Strider World Headquarters to meet with Strider and Strider Education Foundation Founder Ryan McFarland. Jamie is a former pro road racer now seeking adventure on two wheels around the globe. This wasn't just a "Hey I'm in your neck of the woods lets meet up scenario" this was a friendship reunion. Jamie and Ryan first met 4 years ago in Milan Italy at a moto-tradeshow. Jamie was intrigued by the Strider Balance Bike phenom that was all the buzz and how easy it was to teach young children how to ride. Jamie's son has autism, and Jamie knew after seeing Ryan's balance bike that he needed to get a Strider, acknowledging the many benefits and effect it would have with his son.
Take a look at this video documenting Jamie's visit to the beautiful Black Hills of South Dakota where he not only got to ride motorcycles with Ryan but also with Ryan's son Bode, which is exactly what built this friendship— two dads with a love of two-wheels wanting to share that passion with their sons.