Do You Remember Growing Up On 2 Wheels?
Do you remember your first bike ride as a kid, when you got to meet up with your friends and "take off" on your own? Kameron Amstutz of Music City Indian Motorcycle does.
"It was our first real taste of freedom and we could never turn back, back to a boring life of no adventure," Kameron told me as we spoke on the phone. Kameron is one of the first few motorcycle dealership owners realizing just how important All Kids Bike is to the motorcycle industry. How you ask? It's simple, according to Kameron. "We are seeing the effects of the generation gap. Kids have been opting for video games and tablets for the last 15 years and look at us now, we are seeing the effects of not having as many young customers walking in to buy motorcycles. If you don't get interested in the joy of two wheels at a young age, chances are you're probably not going to want to start riding motorcycles later in life."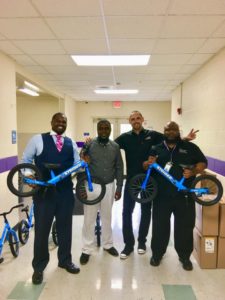 Kameron has a point and it's happening in many industries of adventure and travel. Kids these days are just "watching" life vs. living it. "I feel bad for this next generation that are being handed tablets to keep them busy, they are missing out on adventure, freedom and plain old-fashioned fun with friends".
We all know Kameron has a point; it's evident kids should be "playing outside" more, but for some reason phones, tablets and video games are more the norm for childhood play these days. Only 1 in 10 kids consider outdoor play as their favorite activity! We also discovered from relaygo.com that six to eleven-year-olds spend 33 hours per week in front of a screen. Kameron wants to bring back the "good old days" when the neighborhood kids got on their bikes and rode, going on adventures and exploring the world together, making memories that will last. "No kid 20 years from now is going to say 'remember that time we watched a viral video of other kids.'"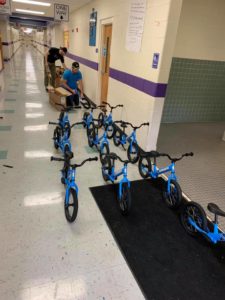 With only 52% of kindergartners knowing how to ride a bike, there is without a doubt a decline in peer to peer outdoor activity. Due to many reasons, most children simply don't have the opportunity to learn how to ride a bike. Kameron understands that and by becoming a school donor in the All Kids Bike movement he may have a hand in turning things around. "I'm actually making an investment in my community; I'm hoping to enrich the lives of kids and introduce them to the world of fun and freedom only two wheels can provide. The kids at Bellshire Elementary went absolutely nuts when we just brought the bikes in. Can you imagine how mind-blown they will be when they get to ride them? Who knows, maybe 15 years from now a few of these kids will want to ride motorcycles."