Franklin Elementary School and Edison Elementary School will be teaching every child how to ride a bike in kindergarten PE class
Salt Lake City, UT (5/12/2022) – Franklin Elementary School and Edison Elementary School kindergartners received donations of 24 new Strider® Balance Bikes from the Ryan Dungey Foundation as part of the All Kids Bike initiative. The donation of the All Kids Bike® Kindergarten PE Learn-To-Ride Program, includes Strider Learn-To-Ride Bikes, helmets, and curriculum.
The Ryan Dungey Foundation has partnered with All Kids Bike on their mission to teach every child in America how to ride a bike in kindergarten PE class. The Ryan Dungey Foundation has chosen to donate the All Kids Bike Learn-To-Ride Program to various elementary schools across the nation. The timing of this donation in Salt Lake City purposely aligned with the Monster Energy AMA Supercross World Championship that took place at Rice-Eccles Stadium. As a 9-time AMA Champion, Ryan Dungey and the Foundation wanted to take advantage of this opportunity to spread the joy of two wheels. All Kids Bike/Ryan Dungey Foundation supporters, KTM Juniors and Moto4Kids, attended the bike deliveries to celebrate the new little riders in Salt Lake City.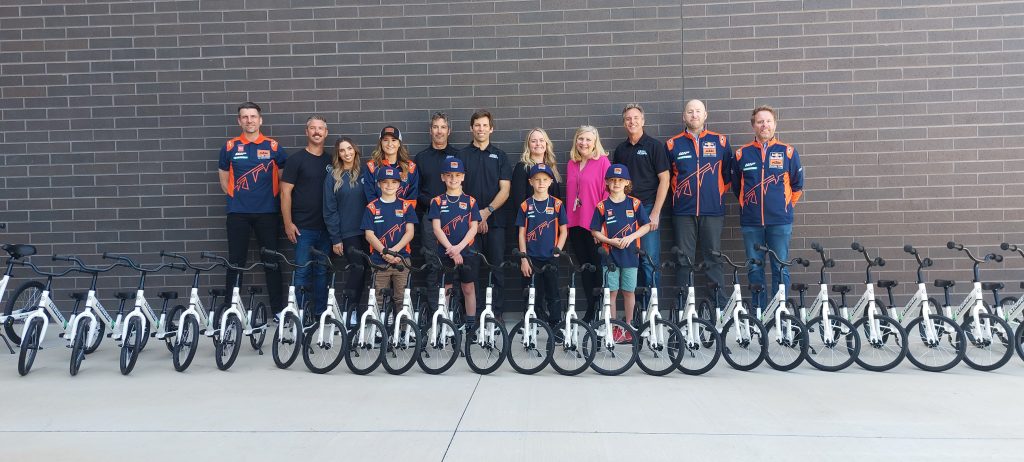 The Ryan Dungey Foundation bike deliveries included a bike reveal in front of an excited group of kindergartners. The students were surprised with the fleet of bikes and had the opportunity to take them for a spin.
"The Ryan Dungey Foundation was founded with the vision of creating opportunities for the next generation of children. Since I was a kid, two wheels have given me so much joy, opportunity, and success. We have been blessed from the beginning, to have such great partners, sponsors, donors, and fundraisers that have helped us exceed our goals and continue to be able to make an impact with so many other children across the country." says Ryan Dungey, 9-time AMA Supercross and Motocross Champion. "It's great to have our team here in Salt Lake City this weekend alongside Monster Energy AMA Supercross as they celebrate their season and champions at Rice-Eccles Stadium on Saturday. I am excited to continue our tour of giving back to the communities and cities that have a lot of meaning to my family and me. Over the next few months, we will be going back to the cities where I was able to clinch my nine championships. I look forward to seeing more kids enjoy what two wheels have to offer. Maybe one of these kindergarteners learning to ride in the All Kids Bike program will have a future in our sport."
Dr. Timothy Gadson, III, Superintendent, Salt Lake City School District, said, "We feel so fortunate to receive this support from Mr. Dungey and All Kids Bike. The gift of a bicycle represents more than just a few moments of fun for our students: they now have an opportunity to get some fresh air and healthy exercise every day, a chance to experience independence by being able to get themselves from Point A to Point B, and an opportunity to engage in a healthy activity that is both environmentally friendly and family friendly. Biking has also been proven to support student's mental health and learning development, and we're grateful to All Kids Bike for this generous gift."
The generosity of Ryan Dungey and the Ryan Dungey Foundation will equip physical education teachers at each school with everything needed to teach thousands of kids the life skill of riding a bike!
The All Kids Bike Kindergarten PE Program boasts an inclusive, proven Learn-To-Ride curriculum that offers every child the opportunity to experience the joy of two wheels. Launched in March 2018, there are already 479 schools across all 50 states, teaching hundreds of thousands of student show to ride over the next five years.
Learning to ride a bike at a young age increases confidence while developing balance, mobility, safety, environmental awareness, and facilitating exercise. The program includes a proven, integrative 8-lesson curriculum, staff training and certification, a fleet of Strider Learn-To-Ride Bikes, and helmets. The fleet of dual propulsion 14x Strider Bikes start as balance bikes and convert to pedal bikes. The bikes used in the All Kids Bike program allow children and teachers to progress through the riding process void of fear and full of encouragement. Kids develop their skills with each session, first learning to balance, then learning to pedal, all on the same bicycle.
With every new school entered in the All Kids Bike program, more children across the country are learning life skills and getting much needed exercise while getting away from their computer screens and spending more time outdoors.
The Kindergarten PE Program supports critical health and safety needs, including:
Spatial awareness: Teaches the concept and understanding of "safe distancing" to a child.
Limited touch points: Specifically designated hand placement limits cross-class touch points.
Fosters overall health: Core muscle development, cardio activity, and mental motivation.
For more information about the Ryan Dungey Foundation, please visit RyanDungeyFoundation.org.
For more information about All Kids Bike, please visit AllKidsBike.org.
ABOUT ALL KIDS BIKE®
All Kids Bike® is a national movement led by the Strider® Education Foundation to place Kindergarten PE Learn-To-Ride Programs into public schools, using donations from individuals, businesses, and organizations.
ABOUT RYAN DUNGEY FOUNDATION
The Ryan Dungey Foundation is dedicated to creating opportunities for the next generation of children. Our efforts are focused supporting the fight against childhood cancer and our commitment to help children live healthy and active lifestyles. The Foundation raises valuable funds in support of St. Jude Children's Research Hospital and All Kids Bike.