Balance Bikes And Physical Therapy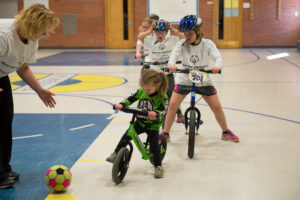 At the helm of the All Kids Bike Learn -To- Ride Kindergarten PE Program is the Strider Balance Bike. What important role do these bikes play in the program? These lightweight bikes were designed specifically to teach beginning riders as young as 6 months how to steer and balance on two wheels—without the distractions and complications of pedals or training wheels. Balance bikes are designed with only foot propulsion to teach the basics of riding and are specifically designed to help individuals learn balance and coordination BEFORE pedaling. When the fundamentals of balance and steering are mastered using natural means of propulsion (walking and running), transitioning to a pedal bike or even a motorcycle down the road is seamless. This revolutionary balance bike has its important roles outside of just teaching children how to ride in schools, it can often be found as a preferred tool in the toolbox of many physical therapists.
The U.S. patented Strider frame design creates the ideal rider position for best bike handling: striking the perfect balance between wheelbase, stand-over height, center-of-gravity, footrest position, handlebar position, seat position, front-to-rear weight bias, and steering geometry. All components, such as seats and grips, are appropriately sized and shaped to fit young riders. The resulting bike is safe and easy to use, completely intuitive, and naturally comfortable to ride. The bikes are lightweight, and incredibly durable making them more than capable of handling the demands of high usage in a physical therapy setting. Therapists use the bikes to help develop balance, gross motor skills, and spatial awareness in their patients, which often leads to accelerating their patient's development.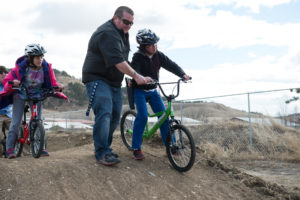 Carly Messner has been working as a Pediatric Occupational Therapist for ten years. "There are aspects of physical exercise, mental health, general health and wellness, and even socioeconomic factors that play into a child's situation," Messner explains. "I meet that child where they're at, find out where they're struggling, and help them achieve their goal." Carly has been integrating Strider Bikes into the wide range of toys and activities she uses in her work. Many of these fundamental skills in children are dependent on their core strength and trunk stability.
In the last decade, core strength in children has been on the decline. Infants are spending more time in car seats and bouncers. Toddlers are spending more time on screens. Children are spending less time playing outside. Since core strength is a fundamental building block for higher-level skills, the effect of its decline has rippled through schools and can manifest as difficulty with handwriting, being fidgety in class, and poor coordination. Usually, these problems are not linked back to deficient core strength, so treatment is often ineffective. The key is early intervention.
One of the biggest benefits of using a Strider Balance Bike as a tool for developmental milestones, versus other toys and activities, is its inherent motivation for getting families outside together. When Carly shows up with a Strider Bike, kids are excited about getting out, and it usually draws families out to watch what their child is doing and accomplishing. To Carly, family engagement is vital to the success of children meeting their goals. She loves how Strider Bikes naturally do that without her having to push or convince them. "It doesn't really matter the condition of the lawn or yard. Kids can ride in small spaces. We can get them out on a deck or even do it in an apartment. The kids have so much fun, and their caregivers are very proud," Messner says. Strider Bikes were also instrumental when Carly worked in outpatient pediatric clinics. Many of her clients with autism or sensory issues had trouble transitioning from one thing to the next. Carly would make sure to give plenty of verbal cues and warnings when sessions were about to end, in hopes this would help with transitioning. It usually didn't work. Her clients would have meltdowns, and it would be difficult to get them out of her office and into their car to go home.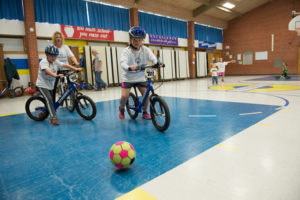 Carly decided to bring a Strider Bike and leave it by the door. Instead of making broad statements like, "it's almost time to go home," she would say, "it's almost time to get on the bike." The kids, then, began to look forward to getting on the bike and riding out the door. "That made all the difference in the world," Messner stated.
Through the Kindergarten PE Program, every child in America will enjoy the mental and physical benefits of riding a bike, as well as the fun, freedom and mobility it provides. The Program utilizes a progression-based approach in teaching children to ride. Building upon a foundation of skills acquired in each lesson, students achieve milestones that guide them to the final goal of pedaling a bike independently.
Classrooms across the country can be transformed merely because students – who regularly spend time biking – become more social, get more exercise, and have a better focus while learning.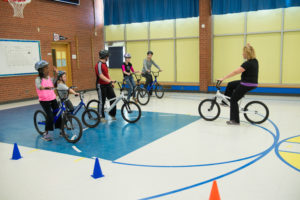 "If an active lifestyle is the antidote to screen addiction and sedentary health issues, then bicycling, with all of its benefits, must be one of the strongest medicines we have."
Our Kindergarten PE Program is designed for children of all abilities!